STYLISH SPACES: SIX TIPS FOR CREATING THE PERFECT HOME OFFICE
Oct 29, 2021, 18:08 PM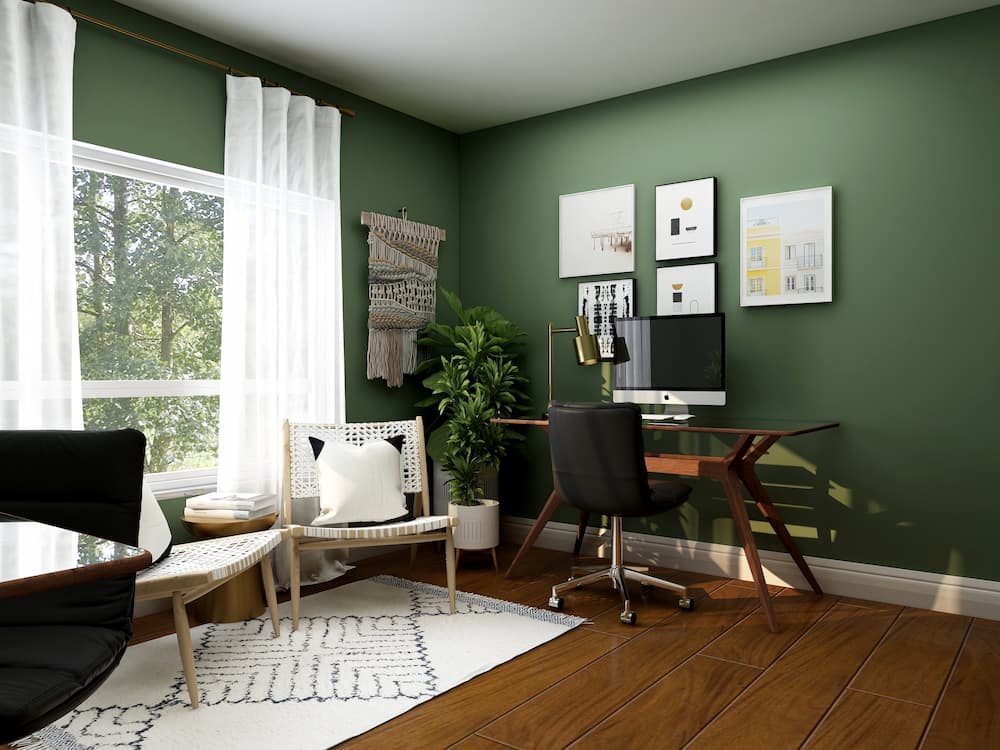 Are you one of the many who now work from home? If so, you know that since you're spending more time at home, finding room for a home office is key. For many, it can be difficult trying to find the space for a home office when your square footage doesn't allow. Extending and renovating your spaces may be the way to go. So, it's time to get creative and think outside the box!

Here are our tips for creating a work-from-home area with spaces that may already exist in your current home:


Don't Ignore the Uncommon Spaces
An office space doesn't have to be large to be effective. Look around your house and take notice of nooks, closets, and corners that are unoccupied. Small rooms, vacant spaces, and awkward corners should never be overlooked! The addition of a small desk and some shelves can truly transform a dull corner into a practical and stylish space. The area underneath a staircase even has great potential for a workspace.

In most homes, the bedroom and hall closets can fit a desk, along with plenty of shelving. If you want the space to be unseen, simply close the closet doors. Or remove the doors entirely if you don't mind the desk being noticeable.


Communal Command CentersTake advantage of commons areas like the kitchen, family room, or formal dining or living room. Conveniently, some kitchens already come with built-in desks, allowing you to be in on the action, making it easier to attend to other tasks without having to move very far. No kitchen desk? Consider installing one yourself! Unused breakfast nooks are also a great option for office spaces.

For creating an enjoyable working space in the family room, consider following the sun and setting up a desk under your favorite window for an office with a view. Also remember to follow the flow of the room and take advantage of furniture pieces that already exist, like lamps and chairs. If you have an open floor plan, try placing a desk behind your sofa. To set up a successful work environment in your living room, ensure that your shared space strikes a good balance of blending into one another while also retaining their individual functions. This will help keep your work life separate from your home life as much as possible.

Often formal dining or living rooms are a waste of space, going unused most of the year. Renovating one of them into a home office can be a great space-saving solution. If more privacy is what you're after, consider installing a sliding barn door or stylish curtains to the entrance. Stand-alone storage options like bookshelves, credenzas, and cabinets work well in these spaces while also adding a decorative flair.


Beautify Your Built-InConsider taking advantage of a built-in. Although this idea might take a little more work—the end result is worth it. Replace one of the cabinet sections of a built-in with a desk. This will give you a workspace with storage space without taking up extra room.


Get More Out of Your Guest RoomPut your guest room to work! It's not always the most practical idea to dedicate an entire room to the infrequent house guest. Building cabinets, installing open shelving with stylish bins, or adding a desk into your guest room allows for a beautiful and functional workspace for you, while also giving your occasional guest some space for their things as well.
If more space is what you're after, explore the option of replacing the bed with a comfortable sofa sleeper. Use the sofa bed for lounging during the day and as a fold out bed for guests. A murphy bed is also an optimal space saving solution for guest room offices. Keep the room simple and the desk area easy to pack away for when guests do arrive. This can be easy to achieve with a rolling desk to keep the room convertible.


Get VerticalNo room for a desk and a chair? No problem! A standing desk might be the solution you've been looking for. There are many health benefits. Many people have said it even boosts productivity throughout the day. You can also maximize your home's dreaded dead space by adding cabinets and shelving that extend all the way to the ceiling.


Take Your Office OutdoorsOur world requires that we find new and creative ways to work. If you're lucky enough to live in a climate that is enjoyable year-round, consider setting up your office space outdoors. Take advantage of your porch, patio, or shed while enjoying Mother Nature. Screened porches, awnings, and sheds are great for providing sun cover and protection from inclement weather. Renovating you current shed with a desk, rug, and lighting can be a great office alternative. If your budget allows, there are companies that offer prefab backyard office sheds. These custom sheds provide privacy, function, a work-life/home-life separation, and a commute that can't be beat!


This year at The Johnson County Home + Remodeling Show find tips and tricks for your home office makeover. Start planning your trip to the show and get your tickets today.