GET OUTSIDE: 6 OUTDOOR TRENDS
Jun 2, 2021, 01:33 AM
School's out, the temperature's rising, the grill's dusted off and ready to go. The North Atlanta Home Show's June 4-6 dovetails with the traditional start of summer – aka outdoor entertaining season – so we've compiled some of the top trends in living space for the great outdoors.
Covid lockdown shaped home improvement in so many ways. In the face of unprecedented challenges, an increasing number of people sought a more bucolic lifestyle and refuge in Mother Nature. For example, people spent 42% more time outside gardening in 2020 over 2019, and online searches for outdoor sheds are up a whopping 159% in the last year.
Based on online searches and trends reports, we've compiled a list of some of the top outdoor living trends you'll see sprinkled throughout the North Atlanta Home Show floor and beyond:
WFH Al Fresco. Work From Home life is so ubiquitous now It has it has its own identifiable acronym: WFH. Home offices are spilling over from guest bedrooms and kitchen tables into outdoor spaces. In weather like Atlanta's, outdoor office space is feasible a good part of the year, and consumers are looking for furniture that's durable enough to host Zoom calls by day and backyard BBQs by night.
Hot Tropic. Lockdown life left many inspired to create their own backyard paradise to get away from it all. Look for tropics-inspired rattan furniture, palm and banana leaf prints on outdoor throw pillows and furniture as well as hammocks to be popular.
Glow Up. One of the easiest and most affordable ways to create instant ambiance is to just add glowing light to a space. Outdoor string lights aren't just for special occasions and holidays anymore, hanging string lights can take your summer get togethers to a whole new level of festivity. Pro tip: suspend lights in an "X" and center your outdoor dining table underneath.
Garden Party. With so many turning to gardening as a hobby or stress relief during the past tumultuous year, consumers continue to embrace it – from growing their own vegetables, herb gardens, "retreat" gardens and more. This is one trend that won't be left in the weeds – gardening benches, tables, raised container gardens will all keep growing.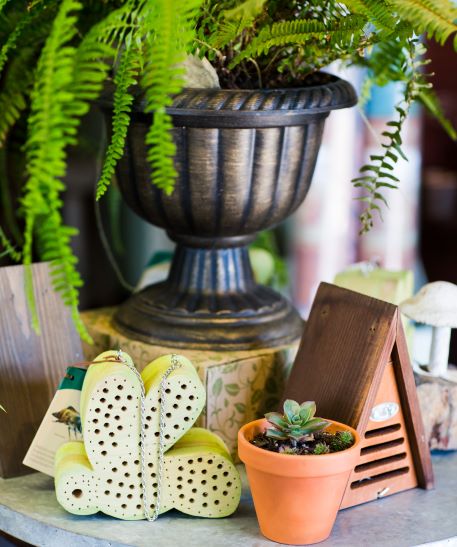 Outdoor Pizza Ovens. Web searches for outdoor pizza ovens spiked 80 percent during the pandemic. In addition to pizza ovens, fireplaces, firepits and outdoor kitchens are topping the trends list.
Detached Rooms. She Sheds, Granny Shanty, Outside Office – whatever you call them, searches for "detached rooms" surged 159% this year according to MyMove.com. With multiple uses from office space away from the main living area, additional guest living space or long-term visiting quarters for grandparents, these will remain popular.
To get more outdoor living inspiration at the show – buy your tickets today and save $2!