Cleveland ROCKS At The 2015 Feature Gardens
Feb 10, 2015, 18:25 PM
Get out of the cold and enjoy a first glimpse of spring at
The Great Big Home + Garden Show
, presented by Carrier. Explore Cleveland Rocks-Themed gardens, created by some of Northeast Ohio's top landscapers. These gardens represent some of the most iconic aspects of our city!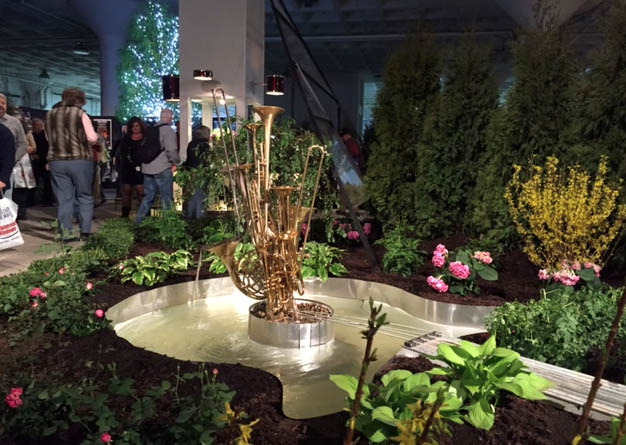 Feature Gardens Created By:
Auburn Career Center
Website:
auburncc.org
Garden Theme: Cuyahoga Valley National Railway
Welcome to the Cuyahoga Valley National Railway, featuring a 1/8 scale working steam locomotive. Stroll along the replica of lock 37 and enjoy the sights and smells of spring along the railway. The garden is designed and constructed by high school junior and senior Landscape Horticulture students, with assistance from the Construction Technology program from Auburn Career Center.
Brothers Grimm Landscape & Design
Website:
brothersgrimmlandscape.com
Garden Theme: Virginia Kendall Park, Cuyahoga Valley National Park
Come and see how beautiful Ohio can be at this Virginia Kendall Park inspired outdoor living space. Visitors will feel as if they were out in the woods as they walk the path leading past a waterfall and down to the casual fire area. From there, continue on to discover a rustic pavilion complete with an outdoor kitchen on the terrace with accent beams resting on stone pillars, creating the perfect place to entertain.
CK Stonescapes
Website:
ckstonescapes.com
Tri-R-Stone
Website: tristone.com
Garden Theme: Stan Hywet Hall
Be transported back to the elegance and glamour of the Roaring Twenties as you take a stroll through this Stan Hywet Hall inspired garden. Visitors will be greeted by a roofed arbor sitting area with an interactive sheer glass water-wall fountain. This garden also features colorful plants, an outdoor fireplace, and patio areas and garden paths built from a combination of natural sandstone and Unilock pavers.
Down To Earth
Website:
dteohio.com
Garden Theme: Little Italy
Visitors will be transported to one of Cleveland's most vibrant neighborhoods when they enter this Little Italy inspired garden. The Italian bistro-style courtyard is surrounded by tall brick walls and is complete with a bocce ball court, outdoor pizza oven, and reflective pool. The private courtyard offers the perfect setting for a romantic candlelit dinner with your favorite bottle of vino.
Eyerman Landscaping, Inc.
Website:
eyermanlandscaping.com
Garden Theme: Cleveland Rocks
Inspired from the "Cleveland Rocks" theme, this classic garden showcases natural boulder stones surrounded by lush vegetation illuminated by ambient low voltage lighting. Visitors will find a variety of plants that include hostas, ferns, azaleas, and flowering weeping cherry trees. An upper patio featuring Belgard's Lafitt Rustic Slab pavers, an outdoor kitchen, and a pergola offer comfortable spaces to view the beautiful water feature and the cozy outdoor fireplace.
Falling Waters Ohio, LLC
Website:
fallingwatersohio.com
Garden Theme: Cleveland Museum of Natural History
Go back in time to the Stone Age while viewing natural waterfalls, stone patios, and walls at this Jurassic landscape. Discover fire with a custom fire pit and checkout weeping spruce trees that mimic prehistoric creatures from the past!
Green Impressions
Website:
mygreenimpressions.com
Garden Theme: Cleveland Sports
Cheer on your favorite Cleveland sports team by stepping into the game at this garden's basketball court inspired Unilock paver patio. Designed with entertainment in mind, visitors will never miss a play with this outdoor living area's TV and audio integrated right into the landscaping. This ultimate Cleveland sports garden is complete with a cedar pergola, spa, and plenty of seating wall space. The fire pit, updated outdoor lighting, and fully loaded kitchen and bar area will ensure post-game celebrations last throughout the night.
Hoffman's WATER X SCAPES Garden Center
Website:
waterxscapes.com
Garden Theme: Schneider Healing Gardens, University Hospital Seidman Cancer Center
Inspired by the Schneider Healing Gardens located at University Hospital Seidman Cancer Center, guests can experience relaxation of six soothing water features, including a two-tier Parisienne fountain, a three basalt bubbling rock fountain, and a stream flowing into a koi pond. The garden will be filled with over 200 colorful and fragrant spring flowers including tulips, roses, hyacinths, and primroses - just to name a few.
Lake County Visitors Bureau
Website:
lakevisit.com
Garden Theme: Lake County Collector's Garden
Built by Mapleridge Garden Center, this garden features hardy and not-so-common plants found throughout Lake County. Visitors will find a path that leads to a six-foot waterfall, representing one of many throughout the Lake County Metroparks. This garden also features a collection of Japanese Maples, dwarf conifers, dwarf azaleas, rhododendrons, and wood ornamentals.
Landscape Design Associates, Inc.
Website:
4landscapedesign.net
Garden Theme: Tremont
Feel right at home with this garden's urban outdoor living oasis inspired by one of Cleveland's most popular neighborhoods, Tremont. Follow the natural stepping stone path and enjoy the view of ornamental trees, shrubs, and perennials perfect for any backyard. Relax on the Unilock patio fitted with a stone fireplace, outdoor bar, and updated pergola with a semi-transparent roof.
Lorain County JVS
Website:
lcjvs.com
Garden Theme: Cleveland Sports Teams
Designed and built entirely by students from Lorain Country JVS, this garden showcases the pride of Cleveland's major league sports teams. Look for your favorite team's colors as represented by one of the many tulip gardens featured within planters on the Unilock patio.
Ohio Landscape Association
Website:
myohiolandscape.com
Garden Theme: N/A
Designed and installed by members of the Ohio Landscape Association (OLA), this garden is constructed with a combination of both natural and manufactured stone products and lush plantings. Visitors will admire a soothing water feature and casual patio area with a seating wall. Celebrating its 50th anniversary this year, the OLA is a non-profit trade association for landscape contractors and their suppliers with members from all across the state.
The Holden Arboretum
Website:
holdenarb.org
Garden Theme: Growing Together: The Holden Arboretum and Cleveland Botanical Garden
The Holden Arboretum and Cleveland Botanical Garden are growing together for a greener, healthier Northeast Ohio. This exhibit will feature elements from the gardens of both institutions and will highlight the similarities and differences of their two distinct landscapes. The exhibition, like the newly integrated organization, will offer visitors an opportunity to explore the trees and plants within both rural and urban settings and to discover how greener communities will improve the region and beyond.
The Ohio Valley Group, Inc.
Website:
ohiovalleygroup.com
Garden Theme: Rock and Roll Hall of Fame
Cleveland rocks and so does this garden! Visitors will not only be greeted by the iconic Rock and Roll Hall of Fame inspired glass pyramid structure, but will also enjoy concerts taking place on stage featuring various musical instrument water features. Upcycled musical instruments further complement this garden, including a drum set chandelier hanging over a sleek bar inset with a unique French horn vase and a grand piano with a shelving unit archiving rock and roll memorabilia. Other features include walls of lush green turf, a guitar-shaped reflecting pool with a brass instrument water sculpture in the center, modern plant combinations, deciduous trees, and an interactive graffiti wall.
Unique Landscaping LLC.
Website:
uniquelawn.com
Garden Theme: Country Club in Cleveland
No membership required to enter this Country Club influenced garden! Bring your golf shoes for afternoon tee time on the putting green and enjoy the company of your friends on the Unilock paver patio featuring an outdoor bar and built-in fireplace. Encased by decorative aluminium fencing by Specrail, the grounds of this Country Club are sporting vibrant yellow and purple flowering gardens and a classic waterfall feature.
The Weidner Group
Website:
theweidnergroup.com
Garden Theme: Lake Erie Living
Step outside your coastal home and into this backyard paradise. Walk the path that leads to a cozy outdoor living space featuring a covered pergola with Lexan panels housing a seating and grilling area. Stay warm throughout the night next to the outdoor fireplace and enjoy the natural privacy from the evergreen trees. Other landscape features include colorful hydrangeas, hostas, and boxwoods.
As you can see, our Feature Gardens can't be missed. Make sure you check out the gorgeous greenery at this year's
Great Big Home + Garden Show
! The event takes over the I-X Center until February 15, 2015. Don't have tickets yet?
Get 2-for-1 on Facebook
.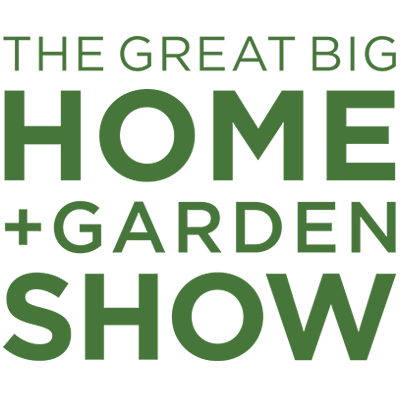 FEBRUARY 6 - 15, 2015.
I-X CENTER