Must-See's at the 2020 Great Big Home + Garden Show
Jan 27, 2020, 15:00 PM
More than 600 exhibits are ready to explore, over 1,000 experts can't wait to answer your questions, and home and garden experts and local chefs are ready to inspire you at The Main Stage at this year's Great Big Home + Garden Show! Before you hit the show floor, Jan. 31 to Feb. 9 at Cleveland's I-X Center, here's some tips to make the most of your visit.
Craving a taste of spring?
Head to the Garden Showcase first. This year's theme, One-Tank Trips, will not only give you a hint of spring, but also inspire you to plan a day trip to some of the region's great attractions, including Put-in-Bay, Tremont, Hocking Hills and more.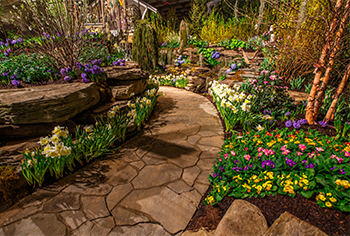 Need home and backyard inspiration?
The home and outdoor living feature area is what you're looking for. From a traditional-style home of the future to more unique home ideas, including tiny and container home options, each will give you fresh ideas. Then experience the latest in backyard design, including an outdoor entertainment center and multi-use cabins perfect for a studio, workspace or storage.
Is it an expert opinion you're looking for?
Talk to over 600 exhibitors on the show floor as you make your way to the combined HBA Main Stage and Loretta Paganini Cooking Stage to hear from home, garden and cooking experts. Presenters include Laura LeBoutillier of Garden Answer, elite garden and landscape designer Margie Grace, and Chef Stefanie Paganini.
Ready for a break?
Two great options to relax and get a bite to eat at the show are the I-X White Claw Bistro Lounge, a full-service, white-tablecloth restaurant in the Garden Showcase, or Club Cambria, located in the middle of the show floor and perfect for enjoying a glass of wine and light snack without missing any of the show action.