Idea Home Spotlight: Architectural Justice
Jan 18, 2019, 23:02 PM
For over 30 years,
Architectural Justice
has been providing design and remodeling services to homeowners across northeastern Ohio, creating on-trend designs for all areas of the home. They blend artisan skills from their on-site shops for granite, stone, wood and metal that result in statement products and spaces that are innovative, yet comfortable. Have a look at our interview with their team - or better yet -- stop in and see their feature VAULT, next to the Main Stage at The Great Big Home + Garden Show.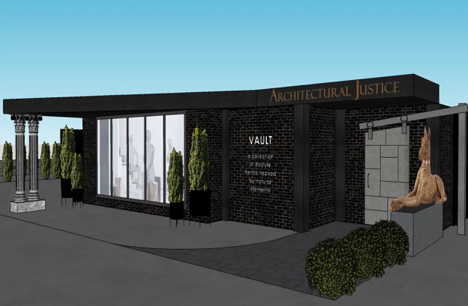 Tell us a little bit about your feature VAULT. What was the inspiration here?
"So many cities across the nation are converting old industrial spaces in to beautiful innovative lofts. We were inspired by this and created a structure that is our take on an industrial storefront conversion project. The VAULT features a collection of stylish interiors focusing on natural materials, lifestyle trends and our skilled artisans. Stone, wood, metal, and other natural materials have a strong influence in our designs. Throughout the VAULT feature you will experience how these natural gems come together to create one-of-a-kind statement interiors."
When a client is working on a project, where do you begin?
"Whether it is a kitchen, bathroom or other space, our designers will meet with the client and determine their needs and scope of the project. Taking them through our showroom is a good start to see what materials inspire them. We have the great advantage of having all of the products you many need for a project on premise. Often a trip through our granite and stone yard is the first step because for many projects, that is a focal point. From there you can select coordinating pieces like cabinetry, tile and flooring."
What is your creative process like?
"Our creative process will vary from project to project. We like to collaborate with the homeowner and create unique spaces that tailor to their individual needs. We find that offering 3 D renderings of the space really gives the homeowner an idea of what their new space can look like prior to making the investment in their home."

What home design and decor trends are you anticipating in 2019?
"In today's society which is driven by technology, the appreciation for nature and natural materials is increasing. Natural stone and wood products, in particular remind us of the wonders of our exteriors. There also is a renewed appreciation for artisanal products and the makers that create them. There is something nostalgic about handcrafted pieces and past processes which provide a great opportunity for custom bespoke products and spaces. Architectural Justice is fortunate to be able to employ so many talented designers and makers that are able to bring these things to life."
What can we look forward to from you at The Great Big Home + Garden Show?
"The VAULT feature is definitely a must see. Every area of the space will contain natural materials that we have transformed into the space in one way or another. Whether it is a seven foot lit stone guitar in a cool recreational space or a custom kitchen and bath featuring exotic stones and materials - it all promises to be innovative and enlightening."
What is your favorite part of the show?
"One of our favorite parts of the show is the actual set up. Our team gets to work together, under pressure to create a great space. During the show our favorite part for us is meeting new people."
What advice would you give homeowners?
"If you are considering a new project, begin to collect ideas. A great way to do this is making a Pinterest board to share with your designer. It is a great start to see what design style you are gravitating to and also a great way to organize your thoughts and ideas."
Is there anything else you think folks should know about Architectural Justice?
"Architectural Justice has provided Northeast Ohio with design and remodeling services for over 30 years. The 20,000 square foot Medina Design Center showcases natural stone, cabinetry, tile, flooring, kitchen and bath products, ornamental iron, cast stone, and custom furniture. Architectural Justice is one of the largest stocking stone fabricators in the area with over 3,000 slabs of natural stone on-site. Experience an artisan approach to design with on-site services including granite and stone fabrication, custom cabinetry, furniture and millwork, architectural metal design and fabrication.
Architectural Justice strives to inspire clients to bring creativity and style into the home. In July 2017 Justice opened their flagship location, Architectural Justice Gallery & Cafe, in Strongsville. The Gallery & Cafe is a unique, European inspired space to shop, dine, and be inspired – Cleveland's first redefined space for experiencing artisan living."
The Great Big Home + Garden Show takes over the I-X Center February 1-10, 2019. Full of exciting features like VAULT from Architectural Justice, don't miss your chance for home inspiration and ideas.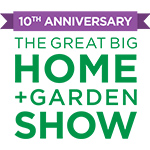 FEBRUARY 1-10, 2019.
I-X CENTER